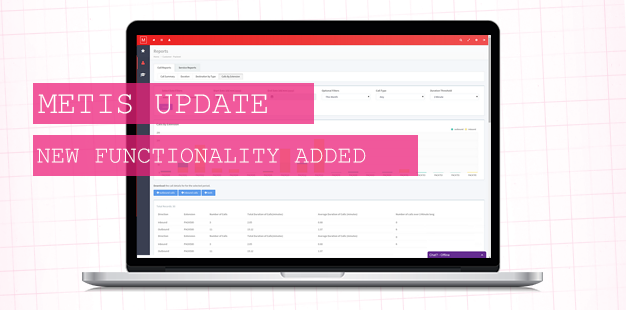 The main scope of the Metis update is to improve the look and feel of the site. But we are simultaneously working on making the portal easier to navigate. The first step of this is merging the View Services and Manage Services sections into "Services". We will also be releasing a brand new call report for all customers which you can read about beneath the Services run through.
This guide is written using the scenario that you have logged in as a reseller and you are under "My Account".
Within the Services section of Metis you will be able to perform the following three functions:
View Services
Manage Customer Services
Manually Updated Services
"View Services" remains the same. Here you can view all of your service charges.
---
"Manage Customer Services" has been created to provide our resellers with a top down view that enables them to change service charges and apply them to multiple accounts at once, rather than having to navigate to each account individually.
Here is a run through on how this functionality works:
Applying an overall % markup
You will be able to apply a % markup to all service categories including; VoIP Services, Numbering, IP Phones, Headsets, Routers & Network, Door Entry, Accessories, Broadband, Broadband Ancillary, Leased Line, WLR3, WLR3 Ancillary, Custom Services.
By applying an overall % markup to your customers, the system will take whatever service charges are on your account and apply the given % markup, e.g. if you are charged £10.00 for an extension and apply a 10% markup, your customer's service charge will automatically be updated to £11.00.
When you have specified your % markup your customer's services will automatically update whenever your service charges are updated. We strongly recommend applying % markups as a way to keep your customer's service charges inline with yours.
Applying a % markup to a category
You will be able to apply a % markup to an individual service category, e.g. VoIP Services.
Applying a markup to an individual service
You will also be able to apply a manually updated service charge to an individual service. This provides an extra level of customisation which can be utilised if you sell a particular service for more, or less, than the % markup you've already applied.
Once you apply a manually updated service charge it will be viewable under Manually Updated Services so you can keep track of your manually updated services.
---
"Manually Updated Services" has been created so you can keep track of services which are not affected by any % markup.
From this section you will be able to view any manually updated services across your customer base. There is also an option to toggle the service from "Manually Updated – Yes" to "Manually Updated – No" which will put that service back into the % markup pool.
---
Call Report by Extension
You will now be able to perform a call report with the results filtered by extension. The report will be accessible by navigating to Reports > Call Reports > Calls by Extension. This report is available for all customers.
You will be able to refine your search with a Start Date and End Date along with the standard Optional Filters (This Month, Yesterday, Last 7 Days, Last Week (Mon – Sun), Last Businessweek, Last Month, All Time), Call Type (Any, Inbound, Outbound) and Duration Threshold (1m, 1m 30s, 2m, 3m, 4m, 5m).
Results will be shown in a graph and a table beneath detailing the results sorted by extension. You can download the call details for the selected period from here.
We believe this report will be extremely beneficial for customers who set targets for their member's of staff such as outbound sales companies and call centres.