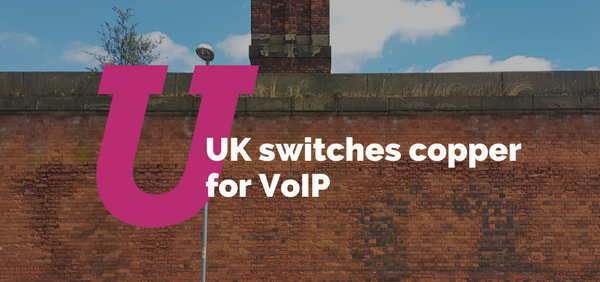 It looks like a VoIP world is coming along sooner than we think. And don't say we didn't tell you so.
BT has announced plans to ditch their traditional phone lines in favour of VoIP. This means that all calls made by it's UK customers will be made over their fibre broadband network.  
What is VoIP?
Voice over internet protocol (VoIP) is a technology that enables voice transmissions over the internet, rather than over traditional analogue phone lines.
With VoIP you can call any landline or mobile number from a VoIP phone in the same way you would use a traditional analogue or digital phone and in turn anyone can call you.
Want to learn more about VoIP? Check out the links below.
Packnet's Hosted Telephony solution
Openreach, BT's broadband division, will be consulting with its communication providers in the month of may. Consultations will revolve around BT's withdrawal of its Wholesale Line Rental products which rely on their current PSTN system.
An Openreach spokesman said:
"This is a truly significant change for the industry and represents a move from an analogue to a digital, fibre led future. These changes will affect how you do business with Openreach."
"In May, we'll consult with industry around the process of withdrawing WLR and related products.
"This follows plans by BT to upgrade its customers from analogue (PSTN) to digital (all IP) telephone services by 2025.
"We'll be working with our Communication Provider customers over the coming months as we consider the move to IP voice services – where broadband rather than voice becomes the primary service."
BT's plans go hand-in-hand with the organisation's pledge to equip approximately three million homes and businesses in UK and Ireland with FTTP. The Fibre First initiative, which they hope will be completed in 2020, will be rolled out into eight cities, including Manchester.
To read more about BT's pledge, click here.
Of course, what's good without a bit of trouble? BT's plans have been halted by regulations overlord Ofcom, who say that BT has an obligation to provide PSTN and POTS services to its customers.
A quote from a BT spokesperson :  
"BT believes all IP services will be used nationwide by 2025 and we think Ofcom's review is an opportunity to roll back obsolete rules in this area to create a level playing field,"
Whilst BT fights with Ofcom, the organisation must allow their copper lines to connect to PSTN voice calls.
Packnet uses Vodafone as a WLR provider, they use BT Openreach to install their equipment, so we'll keep any customers who may be affected by this change updated throughout.