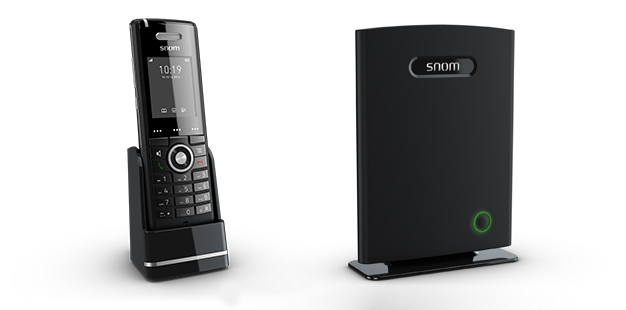 This month, leading VoIP handset manufacturers snom announced the arrival of their first DECT phone range. Including the M65 IP DECT phone, the M700 multi-cell base station and the M5 DECT repeater, the innovative new range has been developed to satisfy the needs of millions of business users who require on-site mobility.
The M65 handset blends business productivity enhancing functions with the intuitiveness of the everyday smartphone, while offering mobile coverage throughout large buildings or across several floors. The new generation snom DECT phone also works seamlessly with a business's existing phone systems, allowing paging and other features.
The upcoming DECT handset features a 2 inch backlit colour screen, backlit keypad,wideband audio and polyphonic ringtones. Other functions and capabilities include dual internal antennas and 17 hour talk time, while paired with the M700 base station it can also offer voicemail, call forwarding, call lists and more.
snom's multi-cell base station, the M700 provides expanded coverage over large areas and multiple floors, as well as linking multiple M700's together to offer free movement and smooth handover between base stations.
The M700 can be implemented in a single-cell or multi-cell installation and can support up to 200 handsets, 40 base stations and 100 repeaters within the same configuration.
The M5 repeater boosts the DECT reception range, while bridging gaps between the M700 base stations, guaranteeing call continuity and removing any chance of blind spots.
snom's DECT phone range will be operational up to 130 feet beyond its base station in the average office environment, while shop floors can expect up to 195 feet and production areas 300 feet.
The M65 and M700 are fully compatible with the Packnet hosted VoIP system and will be available to buy in October with the M5 repeater coming later this year.