In the September edition of our VoIP roundup, we look at Jeff Pulver's thoughts on Net Neutrality, check out the upcoming release of Asterisk 13 and the Gigaset Maxwell 10, snom's cameo appearance in Edge of Tomorrow, Skype's iOS 8 optimisation and the iPhone 6's WiFi handoff feature.
Net Neutrality and VoIP
In an interesting article written this month, Jeff Pulver, a pioneer in the VoIP industry and the entrepreneur behind Zula, talked about how the efforts made over a decade ago to keep government regulators at bay allowed for technological innovation and the VoIP industry to flourish.
In 1995, Jeff was preparing his first venture into VoIP when most "experts" at the time said Title II of the Communications Act of 1934, which imposed utility-like rules on traditional monopoly phone service, would not allow using the internet to provide a voice call or additionally subject these services to rate regulations and other penalties.
Later on in 2003, Jeff convinced the Federal Communications Commission (FCC) to stand up for innovators by ending the legal uncertainty that was putting off investors in the VoIP industry in their thousands. The following year, the "Pulver Order" was brought into effect and declared that Free World Dial-up (FWD) was not to be classified as a Title II "telecommunications service", but as a lightly regulated "Information service". Without such a ruling services such as FaceTime and Skype might never had become a reality.
Pulver then goes on to explain how the debates in early 2000 are similar to today's issue over Net Neutrality and how the FCC's proposals to allow companies to have their traffic prioritised by ISP's will stifle innovation for the next generation of entrepreneurs.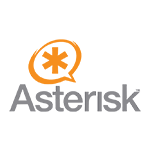 Asterisk 13 is coming soon
Throughout the last year, developers at Asterisk have been working on extending the functionality developed in the latest standard release, Asterisk 12 for the upcoming Long Term Support (LTS) release, Asterisk 13.
For Asterisk, the purpose of an LTS release is to provide a production-ready platform which is stable and reliable, whereas a standard release concentrates more on new features and architectural improvements. With this in mind, the last year's development has focussed on refining Asterisk 12 to create a fully-featured, robust platform.
Matt Jordan over at the Digium blog will be posting about the core changes made in Asterisk 12 and how they will make the release of Asterisk 13 possible.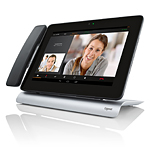 Gigaset Maxwell 10 at Convergence Summit South
On the 8th and 9th of October, attendees at the Convergence Summit South event at Sandown Park in Surrey will get the chance to see Gigaset's revolutionary business phone the Maxwell 10 in action.
The striking Android-based, touch screen business VoIP phone is expected to go on sale later this year and is set to raise the bar in top of the range business telephone solutions.
Combining a 10 inch touch display and HD video capabilities with the flexibility and unlimited customisation of the Android operating system, the Maxwell 10 inspires communication and interactivity with features and capabilities not available on any other office phone. The Gigaset Maxwell 10 will allow business users to work faster and more intuitively than ever before.
Key features include:
10 inch touch screen and Android OS
Connectivity via

USB

, Bluetooth,

HDMI

,

LAN

, Wi-Fi, RJ-9
Connect to a keyboard, trackpad, mouse, headset, projector, monitor and Wifi Access-Points
Combine cloud-based company address books, e-mail accounts or

CRM

files
Integrated front facing camera for 720p HD video communication
Compatibility with most VoIP telephone systems
Additional camera can be connected via

USB

for conference calling
High quality audio with three integrated loudspeakers
snom handset appears in the film Edge of Tomorrow
A keen eye over at snom made an interesting discovery when they spotted a snom handset being used by Tom Cruise's character in the sci-fi film Edge of Tomorrow.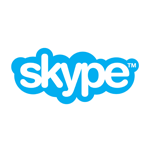 Skype optimised for iOS 8
After the launch of iOS 8, numerous tech brands released updates for their iPhone and iPad apps. Skype was one of the most recent to do so, with the Microsoft-owned mobile VoIP app rolling out a large update for its iPhone users.
As expected, the optimisation for iOS 8 includes interactive notifications, in the form of messages and calls being displayed on the device's lock-screen and banner notifications. After enabling this feature within Skypes settings, missed calls will now show name of the caller as well as when the call was made.
The update now allows users to answer or decline calls by swiping left on the notification. Or for missed calls, swiping left will call back or send a message to the caller. Messages can also be responded to straight from the lock screen or notification banner, making communications on the move much quicker than before, no longer having to load the app every time it's needed.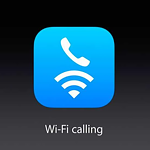 iPhone WiFi handoffs improve internet calling
The iPhone 6 features Wi-Fi calling via VoIP which allows Wi-Fi connections to be used to make calls when network reception is weak. The Wi-Fi on the iPhone 6 has also received an upgrade to 802.11ac – making it three times faster than the last generation.
The most impressive aspect of the new iPhone 6 Wi-Fi calling is the handoff capabilities. If a call is being made using home Wi-Fi and then the user decides to leave the house, the call seamlessly switches to using the mobile network, so no calls will be dropped. Apple is working alongside T-Mobile to provide this feature in the US and unfortunately there has been no word on when and where the feature will be available globally.