In the February edition of our VoIP roundup, we take a look at Yealink's new T48G VoIP phone, talk about Snom and Secusmart's anti-tapping development and Viber's $900 million acquisition by Rakuten, as well as an interesting video interview with Arkivum's Allison Smith and news of Snom's recent Product of the Year win.
Yealink roll out new VoIP phone the T48G
Industry leading VoIP phone developers Yealink have embraced the mobile age and have incorporated some familiar smartphone features in the release of its latest IP phone, the T48G.
The most striking new feature of the T48G is the 7-inch touchscreen which mirrors the functionality and ease of use of a smartphone and without the steep learning curve involved with many standard office phones.
The T48G also incorporates 29 one-touch digital DSS keys which can accessed straight from the touchscreen display as opposed to pressing various physical buttons on the handset.
Designed to be used locally and internationally throughout all industries and businesses, the T48G boasts a wealth top of the range features as well as its game changing screen and user interface, such as; Yealink's Optima HD voice technology for crystal clear audio, Gigabit Ethernet compatibility for rapid call handling and support for Bluetooth USB dongles and wireless and wired headset.
With its productivity boosting features, the T48G is the natural choice for today's fast paced and technology driven workplace.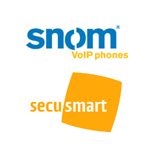 Snom team up with Secusmart to develop anti-tapping protection
In February VoIP pioneers Snom, announced that they have been working alongside security experts Secusmart to develop an anti-tapping protected telephone solution.
Secusmart provide anti-tapping protection using their smart card technology, widely considered to be the most secure and easy to use encryption system available. The smart card is inserted into a slot on the telephone handset and from that point no calls can be tapped.
The development process between the 2 specialists will result in the launch of a high-security IP phone named the Snom 760 Secusmart Edition which is to be unveiled at the CeBIT event in Germany this month.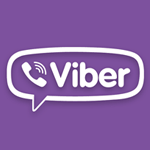 Viber sold to Japanese e-commerce giant for $900 million
Last month Rakuten, Japan's answer to Amazon made its way on to the mobile communications ladder with its acquisition of mobile VoIP app Viber for $900 million.
The mobile internet calling app was one of the original 3G VoIP solutions for iPhone and now allows users on all major mobile and desktop platforms to call landlines, mobiles, send instant messages as well as push-to-talk.
The CEO of Rakuten said that Viber compliments the goals of the company and will allow it enter new markets with a number of digital content offerings.
Interview with the voice of Asterisk, Allison Smith at
ITEXPO

Miami

Over at the Digium blog, there was an interesting post during the ITEXPO event containing a video interview with voice actor, Allison Smith, who happens to be the voice of the Asterisk IVR (interactive voice response) system as well as providing audio prompts for other business IVR menus.

In the video, Allison speaks of her experience over the years with Asterisk and its annual AstriCon event as well as giving her thoughts on how the community has evolved through the years and how the launch of Asterisk 12 and the REST interface has brought a new excitement into the community.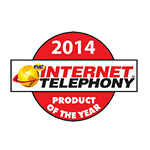 Snom's PA1 public address system wins
TMC

Product of the Year Award

Leading IP business phone developers Snom won an award in February as their PA1 public address system was named 2014 Internet Telephony Product of the Year by TMC, one of the worlds biggest communications and technology media companies.

Blending the functions of the IP phone with a high performance PA system, the PA1 is unique in the way it allows business to make announcements via a simple desktop VoIP handset without having to buy, install or wire new hardware. Announcements are made by simply making a call from a snom IP phone, the PA1's 4-watt amplifier providing enough power to cover an entire room, or floor of a building, with the possibility of connecting several units via the integrated switch.

With the clever solution allowing businesses to save money with interoperability between existing VoIP systems, enterprises can avoid the large costs of installing SIP based solutions and can instead continue to work with their current hardware – saving effort and time in addition to money.