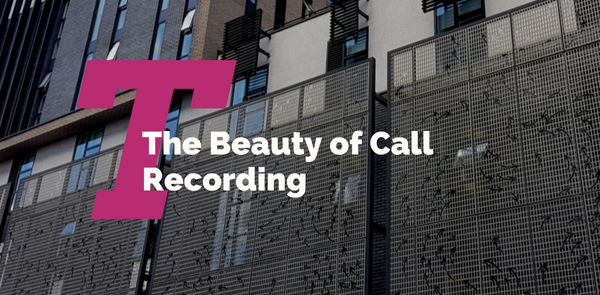 Although it may sound like a nifty trick used in a high-risk espionage film, call recording is becoming the saviour of businesses far and wide. And it's easy to understand why. From increasing efficiency within the workplace to having your back in case something were to happen, call recording is truly the superhero you might just need.
Why should you record phone calls?
Call recording isn't for every business, however, if your business revolves around customer interaction, you may want to consider looking into it. Call recording gives your business the opportunity to understand your customers, improve reputation and efficiency, which of course all helps to significantly increase revenue within your organisation.
Improve call quality between employees and customers.
By being able to record calls, organisations that specialise in handling customers or want to improve their customer relations are able to go through call logs and use the recordings for training. This will allow your managers to pinpoint issues with the conversation and develop a better understanding of where the issues stem from. Through the understanding of issues, you will have the opportunity to examine scripts and develop better staff training.
In addition to that, managers can also use good examples of conversations between customer and staff to highlight what steps and attitudes other staff members need to adopt in order to retain and win customers over.
It's important to add that with the knowledge of their calls being recorded, staff members will be far more likely to act accordingly and appropriately.
Get a better understanding of your customers' needs
One of the best things about call recording is that they allow businesses to get a better understanding of their target customer's needs. Through looking into calls logs, managers and supervisors can highlight particular needs or questions customers are constantly bringing up. Upon this, senior members of your organisation can work towards meeting those highlighted needs that may have otherwise been ignored.
Reputation management
A bad experience with a staff member can do way more to a business than five positive experiences. Therefore, in the case of anything go awry during an interaction it's best to have back-up and what is better than the recorded call? On average, SMEs can lose up to £8k per year on regulation costs (made) by simply not having evidence of them being right, so why take a risk on something that can save you not only money but the reputation of your business?
Here's a step by step guide on how to set up Call recording via Metis.
In Metis, under any customer's account, there is a section labelled "Call Recordings".
Here you can do two things, search for previous call recordings if they already have it enabled on a number or change the recording settings to set it to record.
The tab where you do this is at the top labelled "Call Recording Settings" in there you will find any numbers in the account and can set what to record, for instance, you can do inbound only or outbound only or both inbound and outbound.
You can also set the retention period, this is how long call recordings will stay in the customer's account before being deleted, there is also an option to upload the recordings to a customer's Amazon S3 account (Cloud Storage hosted with AWS) and they can store them there.
Boxes which are greyed out on the "outbound" column is due to them not having an outbound call group so they can't actually dial out on that number so no need to set it to record.