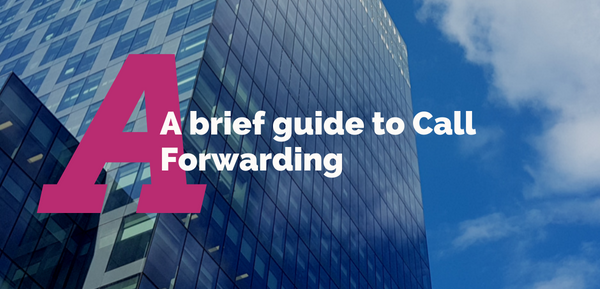 What is call forwarding?
Also known as call diversion, call forwarding is a telephony feature which redirects incoming phone calls to an alternative phone number. The feature seamlessly allows salespeople, offsite employees and other staff members to answer phone calls wherever their location may be.
Mobility and availability
For small businesses owners worldwide, one of the most important aspects of call forwarding is that it gives them the ability to receive calls whilst mobile. Before the beauty known as call forwarding graced businesses, if your employees had to be off-site then chances are customers would be hard on luck in terms of reaching them. Call forwarding means that your employees, whether they're off-site or on-site are always within reach to speak with customers when need be.
As amazing as being available at all times is, sometimes you don't want to be. Thankfully, you can set times at which calls cannot be diverted to your phone. This is ideal for any upcoming holidays and any out of office hours employee's may have. 
Raise your presence
With the aid of call forwarding, your businesses is bound to look more professional as customers are able to reach the business through one main phone number, all the while hiding the personal numbers of each employee. This is also beneficial to a business with more than one location as call diverting allows all numbers to be grouped together despite office locations.
Setting up call forwarding
There are two popular ways to forward calls to another number. You can use Metis to forward your number to an external number or you can use your handset to divert your extension to a different external number or another internal extension.
Each has a different use case:
For example, if your internet connection is down and you want to divert your office number to another external number or mobile, you would use Metis.
If you're away from your desk for a short while and want to forward calls to your mobile, you would use your handset.
Call forward using Metis
Diverting your incoming number
Log in to Metis

Click

Incoming Calls

Find your number and click

Fill in the dial plan wizard as shown in this example:

NB: Always backup your dial plan before making any changes. We are placing our call forward step into Priority 4. Priority 4 is the first editable priority available, meaning calls will immediately forward to the given number if you input your call forward step here.
Diverting your IVR options
If you use an IVR you can apply a call divert against each individual option.
This way your callers will still hear the IVR menu and you could have each option divert to a different mobile number, easing the pressure on your staff whilst ensuring that customers are put through to the most suitable staff member.
Let's say you have three IVR options. To add a divert to the IVR options, follow the steps shown after backing up your dial plan and clicking 'add to':
(Remember: In this context, extension refers to the options pressed by the caller)


Via Handset
Snom
Long
Press the

settings key

Select option

[2] Call Features

Select option

[1] Call Forwarding

Select relevant forward event:

Off

: Call forwarding is deactivated by default.

Always

: Incoming calls are immediately forwarded to the "Always" target number.

Busy

: Incoming calls are immediately forwarded when the phone is busy to the "Busy" target number Note: This feature will only work if Call Waiting is disabled.

Time

: Call forwarding to the "Timeout" target number is activated when the time (in seconds) entered has passed without the call having been answered.

Select option

[2] Target

Input your target number

Select option

[1] Activate
Short
Press the [forward all] softkey

Confirm your target number

Press tick
Yealink
Press the

Menu

key

Select option

[2] Features

Select option

[1] Call Forward

Select relevant forward event:

Always Forward

will unconditionally forward all calls to the specified telephone number.

Busy Forward

will conditionally forward all calls to the specified telephone number if the handset is already on a phone call.

No Answer Forward

will conditionally forward all calls to the specified telephone number if an incoming call is not answered in a specified amount of time.

Press the

left/right arrow key

to enable

Press

down

to scroll to target number

Input your target number

Press

OK