We're happy to announce another addition to our online hosted telephony suite Metis. The new section, simply titled "My Dashboard", has been developed to give customers a natural homepage when logged into Metis.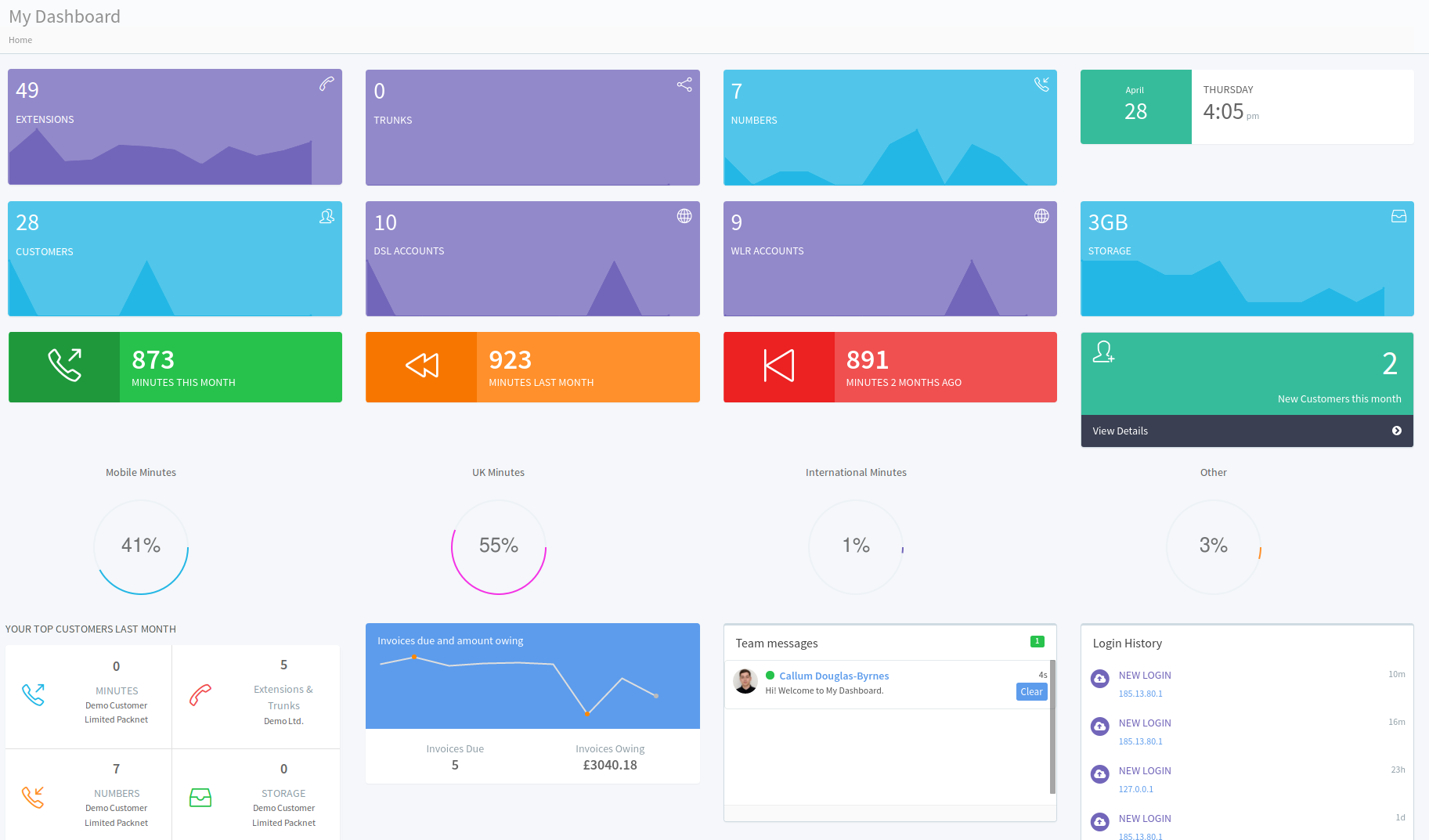 With the roll out of My Dashboard users can now view a number of different account statistics "at-a-glance" as soon as they log in and via a stand alone section of Metis accessible via the main menu.
Key statistics like total extensions, numbers and customers are displayed on the new interface which has been designed to fit the look and feel of our updated Metis suite.
Here's a quick run through of what you will find in your Dashboard.
---
Account Statistics
Account statistics are displayed in the top half of the Dashboard within the coloured tiles and graphs. My Dashboard will show your "total" amount of the following:
Extensions
Trunks
Numbers
Customers

DSL

Accounts

WLR

Accounts
Call Recording Storage (GB)
New Customers this month

Every tile, with the exception of New Customers, has an in-built 12 month graph designed to clearly show any rises and falls in activity. When hovered over the graph will display the figure for that particular month for convenience.
Minutes broken down
Beneath account statistics are your Minutes statistics, which are broken down by:
Minutes this month
Minutes last month
Minutes two months ago
Again, these tiles have been designed to show any increases and decreases month on month.

Beneath that is the breakdown by destination. These figures are shown as a percentage figure of your total minute usage. They are broken down by:
Mobile Minutes
UK Minutes
International Minutes
Other
We find this to be an excellent way of getting to know your customer base better by understanding where their main telephony destinations are.
Extras
Beneath the main section of My Dashboard are a number of other stand alone extras.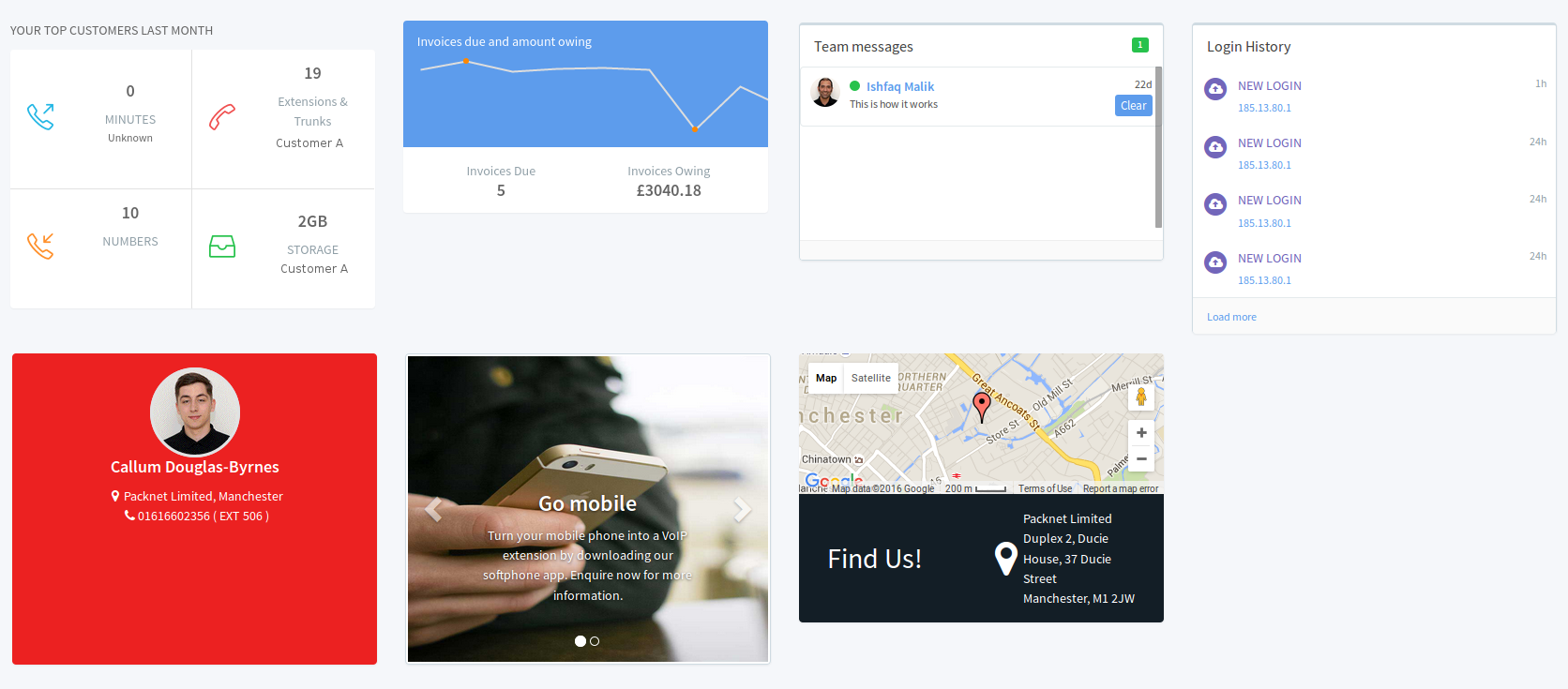 Top customers last month
This section of My Dashboard shows which customers used the most minutes, extensions and trunks, numbers and storage. It's really up to the user what they do with this information but it's good to know who's keeping your lights on.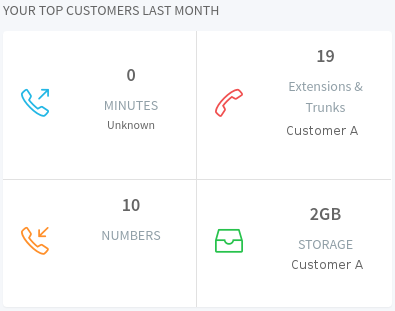 Invoices due and amount owing
This tile will clearly display how many invoices you are due in and the total amount owed. The tile takes its information based on the financial data in your account so to assure correct information is being presented please upkeep this section of your account.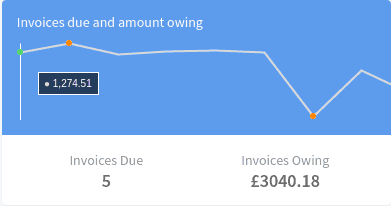 Team messages and login history
Messages can be added here by Packnet or by users. It provides a good platform for us to provide updates or notes that aren't too intrusive. Login history is also shown with a time-stamp and IP address.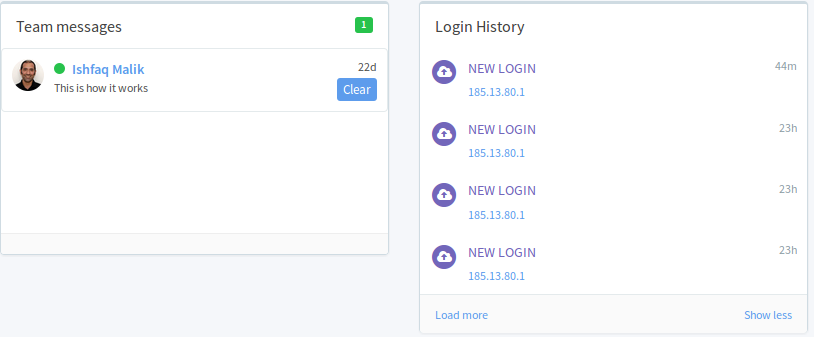 Update Centre
A small carousel of images and text designed to give users short and sweet product updates from Packnet. Similar to Team Messages in some ways but with the additional benefit of images.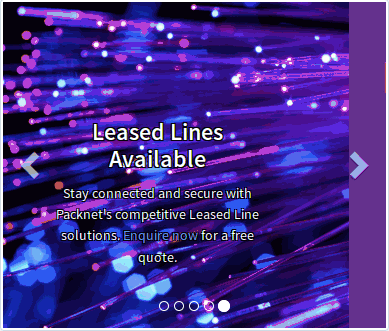 ---
Thanks for reading and as usual, if there's any questions about this post, you can email us at voip@pack-net.co.uk or give us a ring on 0161 660 2350.