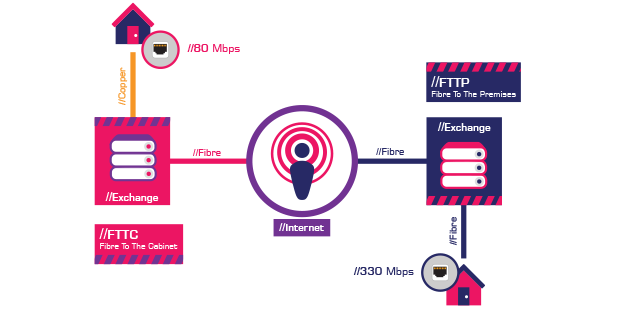 Fibre to the cabinet (FTTC) provides a fibre optic cable connection from the local telephone exchange to a distribution point (commonly called a roadside cabinet). From here, a standard copper based telephone line is used to deliver the broadband connection.
Fibre to the premises (FTTP) broadband connects a business premises directly to the local telephone exchange via a fibre optic cable. With speeds up to 40 times faster than a normal copper based line FTTP is ideal for running a business VoIP network.
FTTC

– Fibre to the Cabinet Providers – Packnet

Packnet have been FTTC providers for the past year, and will be launching a new FTTP connectivity product in the New Year.

We currently provide multiple delivery and partner options on our FTTC products with downloads caps from 10GB per month up to unlimited usage.

If you're not sure which product is best for your business we have put together a useful resource which answers the most frequently asked questions on both FTTC & FTTP.

For more information on our range of connectivity products please call us on 0161 660 2350.