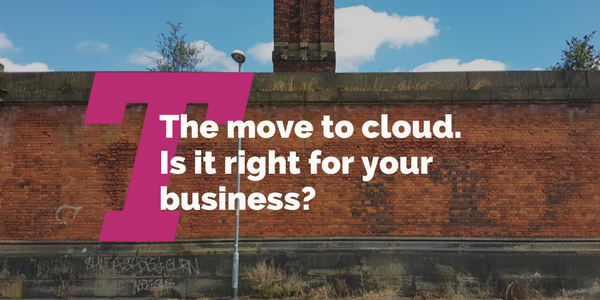 The cloud.
It sounds ominous, but you've certainly heard the phrase thrown about. Whether at work, on the way home or at home, you've come across 'The Cloud' – and as mysteriously '1984' as it may sound, cloud services have become a staple in our lives. And as businesses, you've probably reached the point of succumbing to the cloud-based life but if you haven't and are considering joining the dark side, well, you've come across the perfect article.
What are cloud services?
Cloud services refer to the use of a network of servers hosted on the internet to store, manage and process data. Popular cloud services include Google's very own Google Drive, Microsoft's Office 365 and Salesforce, however, it doesn't just end on the file-sharing front. And one cloud service close to home is VoIP, also known as Hosted Telephony.
Now, before you take the plunge and switch over to cloud services. It's great to look into the benefits and cons of cloud services so you can fully understand how the cloud can help your business.
Things to consider before the move
An IT infrastructure audit.
Before leaping straight into the cloud, it's important to consider what your business already has. For example, what applications does your company use at the moment? What type of servers do you have? Are they physical or virtual?
Once you have a full understanding of what your business uses, you'll be able to understand which parts can be moved to the cloud.
An evaluation of what your IT needs are.
After an audit of IT infrastructure, it's also important to have an understanding of what your business actually needs, and if those needs are met already or not being met by the current systems in place.
You should ask yourself if your systems are running too slow? Do you have frequent network problems? Do the current systems hinder the performance of your business and the service you can give to your clients?
Pros of a cloud phone system
A hosted service means no maintenance costs!
With a cloud phone system, users are provided with a hosted PBX rather than an on-site PBX. On-site PBXs are similar to traditional PBXs systems in the sense that they reside in the location of the business. Hosted PBXs on the other hand, are housed by the service provider, such as us.
With a hosted PBX system you won't have to pay for maintenance costs and all you'll need is an adequate internet connection and IP Phones. And with most providers, you'll be given free support from the customer support team via live chat, email or phone.
Geographical flexibility
One of the best things about a cloud based phone system is that you aren't tied down to your desk. As long as you have steady internet, an IP Phone or softphone, you can make calls from anywhere whether it be at home or travelling.
Cons of a cloud phone system
Purchasing IP Phones
If you're thinking of switching to a cloud based phone system, you'll probably be faced with the need to buy hardware if you don't already have any. However, the great thing about IP Phones is that they vary at price points, with different makers offering different models and features, you can easily choose a make that will suit your budget. In addition to that, IP Phones need an ethernet port to work, this means that you may need to buy a router or ethernet cords.
Internet dependency
A cloud based phone system relies on internet connection and if your ISP is reliable then all is well. However, if you're using an ISP which frequently gives you internet problems then it will affect how well your cloud based system could work. So, before switching to a cloud based phone system, consider switching your ISP as well.