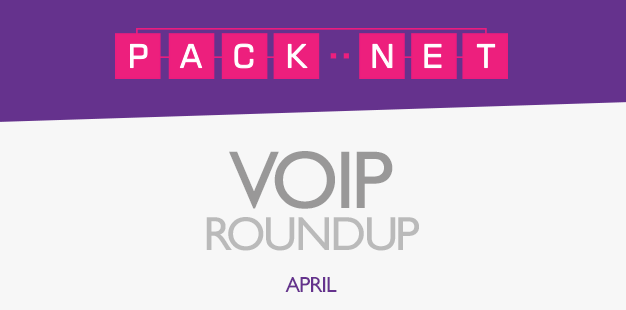 In the April edition of our VoIP roundup, we look at Digium's Respoke platform, Yealink's upgraded T2 series and new CP860 conference phone, snom's latest IP DECT phones, the Gigaset Maxwell 10 and WhatsApp's voice call update.
---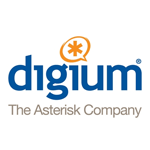 Digium launches Respoke
Digium, the company behind the open-source telephony platform Asterisk gave WebRTC the push it needed with the launch of Respoke, their new cloud platform designed for adding communications to web and mobile applications using WebRTC for both video and voice calling capabilities.
Respoke is essentially a web communications platform that provides a communications API. Respoke allows developers to add features such as individual and group messaging, screen sharing, voice and video calling and also file sharing to websites and mobile apps.
In the coming months, Digium will release Respoke software development kits (SDKs) for the iOS and Android operating systems – extending further the development capabilities from only the browser to the smartphone and tablet.
---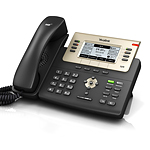 Yealink upgrades its T2 series of VoIP phones
Yealink announced the international launch of the T27P, the latest VoIP phone to be released as part of Yealink's upgraded T2 series. The complete T2 series are now available to order worldwide and includes the SIP-T29G, SIP-T27P, SIP-23 and SIP-T21P.
Designed to meet the requirements of all sizes of business, the T2 IP phone series is an enterprise-grade IP phone solution which has long maintained its reputation for excellent quality, high definition voice and stability features. Following the big upgrade in software and hardware, Yealink now boasts an even more powerful T2 series with new features including:
Improved HD voice quality
Optima HD voice quality and full duplex and noise elimination features
More intuitive and convenient
Multiple paperless programmable line keys with red and green lights
Easy switching to Gigabit Ethernet
Duo-port Gigabit Ethernet Switch
Elegant appearance and UI
---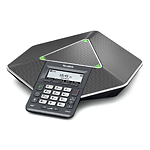 Yealink releases the CP860 IP Conference Phone
Yealink also released the new CP860 recently, this new IP Conference Phone combines excellent audio performance with a number of unique features, helping to make it the perfect conference phone solution for small to medium-sized meeting rooms.
Featuring Optima HD Voice technology and three integrated microphone matrixes for complete 360-degree sound pickup, the Yealink CP860 offers crystal clear conversations, helping organisations to improve meeting productivity. Sound pickup can be improved even further by pairing the CP860 with Yealink's CPE80 Extension Microphones.
Industry-unique features include; support for call linkage with PC or mobile (Skype, Lync and more) for constant UC access from anywhere, anytime and on any device, five-party conferencing allowing organisations to improve communications while reducing the costs of facilities and USB recording for the reviewing or sharing of important conference excerpts.
---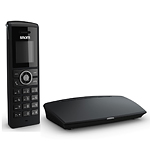 snom presents its latest IP
DECT

telephones

snom Technology AG, the leading manufacturer of business VoIP phones presented the next generation of its product range at CeBIT 2015. Several new IP DECT models were on display, which not only meet high security standards but are also highly interoperable and user-friendly.

A highlight of the show was the new M325 bundle, which consists of the M300 base station and M25 handset, offering customers a quick and easy way to get started with VoIP telephony. The M300 DECT base station supports up to 20 mobile devices and the M25 handset can be used in an evolutionary multi-cell configuration with the M700. Along with its DECT handsets, snom also showcased two cordless broadband HD audio devices and the robust, premium model M85. The M85 complies with the protection class IP65 and is insensitive to dust, water and extreme temperatures, making it ideal for use in industrial environments and shop floors. The M85 features a flat user interface design and a high-performance battery which provides up to 12 hours of high quality calling time.
---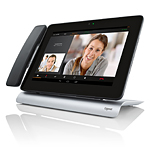 Gigaset launch the Maxwell 10
The ground-breaking Gigaset Maxwell 10 was released after months of speculation and is proving to be quite impressive. Receiving an excellent reception at the recent CeBIT, the Android-based HD business VoIP and video phone was presented to the general public, displaying communication and interactivity-inspiring features not found on any other business VoIP phone.
The Maxwell 10 offers powerful apps, simple information retrieval and access to internal databases, as well as a list of features including the highly customisable and fast Android 4.2.2 operating system and an HD touchscreen display with crisp 1280 × 800 pixel resolution.
The revolutionary device also features crystal-clear voice and sharp video calling thanks to it's three built-in loudspeakers which deliver HD sound in broadband quality, as well as the integrated HD quality camera which transmits video in 720p/30fps. The Maxwell 10 also allows the use of external headsets via DECT, USB and more.
---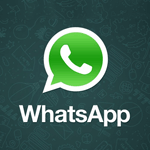 WhatsApp for Android now offers voice calls
It was only a matter of time, but now, the ever popular messaging app WhatsApp has added voice calling to it's list of features.
The latest update is available via Google Play and once installed you will notice an all-new three tab layout for calls, contacts and chats.
To make a call, just tap the Calls tab followed by the new call button at the top of the screen. Select a contact to call and there you go.
The voice call feature is expected to be released on iOS in the coming weeks according to the messaging app's co-founder Brian Acton.